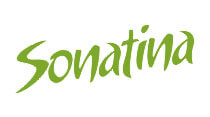 Sonatina with raisins and almonds
Wholegrain wheat flakes with bran and delicious raisins and almonds. Rich in vitamins, minerals and carbohydrates SONATINA flakes are just perfectly composed portion of health for each day.
Ingredients:
Wholegrain wheat flakes  50 % (wholegrain wheat flour 84 %, sugar, salt, baking powder: [raising agent: sodium carbonates, wheat flour, acidity regulator: diphosphates], wheat gluten, malt extract from barley, flavour), wholegrain bran flakes 24 % (wheat bran 42 %, wholegrain wheat flour 30 %, sugar, wheat gluten, salt, malt extract from barley, acidity regulator: sodium phosphates, flavour), raisins (sultanas, cotton seed oil) 17 %, almond flakes 9 %.
Allergens:
Contains allergens (underlined in Ingredients). The product may contain peanuts and other nuts.
Available packaging:
225 g
Customs code:
19041090
Nutrition facts per 100 g:
| Energy | Fat | of which saturates | Carbohydrates | of which sugars | Fiber | Protein | Salt |
| --- | --- | --- | --- | --- | --- | --- | --- |
| 1545 kJ / 366 kcal | 4,6 g | 0,4 g | 65,9 g | 15,5 g | 8,7 g | 10,9 g | 1,61 g |
Logistics: 
| Unit Packaging (Net Weight) | EAN code | Units in carton | Cartons on pallet | Units on pallet | Carton dimensions | Carton gross weight | Carton CBM | Cartons in container 40HC without pallets | Shelf life |
| --- | --- | --- | --- | --- | --- | --- | --- | --- | --- |
| 225g | 5907731602020 | 20 | 32 | 640 | 600 x 390 x 235 | 5,36 | 0,055 | 1320 | 12 months |