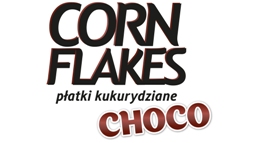 Corn Flakes Choco
They are crispy and delicious. The choco taste will coddle your palate. Great in combination with milk or yogurt or as a sweet snack.
Ingredients:
Corn grit 71 %, sugar, cocoa powder with reduced fat 3 %, salt, malt extract from barley, glucose-fructose syrup, flavour.
Allergens:
Contains allergens (underlined in Ingredients). The product may contain peanuts and other nuts.
Available packaging:
250 g, 375 g (box), 450 g
Customs code:
19041010
Nutrition facts per 100 g:
| Energy | Fat | of which saturates | Carbohydrates | of which sugars | Fiber | Protein | Salt |
| --- | --- | --- | --- | --- | --- | --- | --- |
| 1621 kJ/382 kcal | 1,9 g | 0,37 g | 81,7 g | 18,5 g | 3,3 g | 8,0 g | 1,78 g |
| Unit Packaging (Net Weight) | EAN code | Units in carton | Cartons on pallet | Units on pallet | Carton dimensions | Carton gross weight | Carton CBM | Cartons in container 40HC without pallets | Shelf life |
| --- | --- | --- | --- | --- | --- | --- | --- | --- | --- |
| 250g | 5907731602686 | 20 | 32 | 640 | 600 x 390 x 235 | 5,86 | 0,055 | 1320 | 12 months |
| 375g | 5907731602792 | 18 | 24 | 432 | 580 x 400 x 305 | 9,16 | 0,072 | 1012 | 12 months |
| 450g | 5907731601023 | 15 | 28 | 420 | 600 x 400 x 260 | 7,84 | 0,062 | 1120 | 12 months |